Order-to-Cash automation
Streamline supply service to vessels during a port stay and optimize the Order-to-Cash process through digitization.
| | |
| --- | --- |
| Category | Land | Marine |
| Developer | Disrptiv |
Introduction
glassRUN is a Single Integrated Platform that is used to automate and digitize marine services operations at Marine Ports. It digitalizes the end-to-end Order-to-Cash process by automating, harmonizing and integrating Ordering, Planning, Compliance and Delivery processes. The SIMPLICITY of glassRUN enables rapid adoption across a diverse demography of users across the entire value chain enabling complete paperless and contactless operations. glassRUN is a Cloud hosted SaaS solution offered at an extremely competitive price.
Key Benefits
| | |
| --- | --- |
| Integration with Marine Traffic Systems | Vessel ETA automatically updated in glassRUN enabling real-time collaboration between different parties and timely deliveries. |
| Dangerous Goods & Safety Checklists | Seamless integration of checklists at key points in the process to control and streamline the Delivery process. |
| Control of Ambient Temperature Change | Provision to adjust liquid product quantities due to changes in ambient temperature, ensuring that the correct quantity is Delivered. |
| Offshore Delivery in Offline Mode | Ability to carry out remote offshore Deliveries, in offline mode, in areas of low or nil network connectivity. |
| Delivery Product Discharge Flow Rate Control | Control of the discharge flow rate of each product during Delivery, to prevent excessive pressures, overflows & spillages. |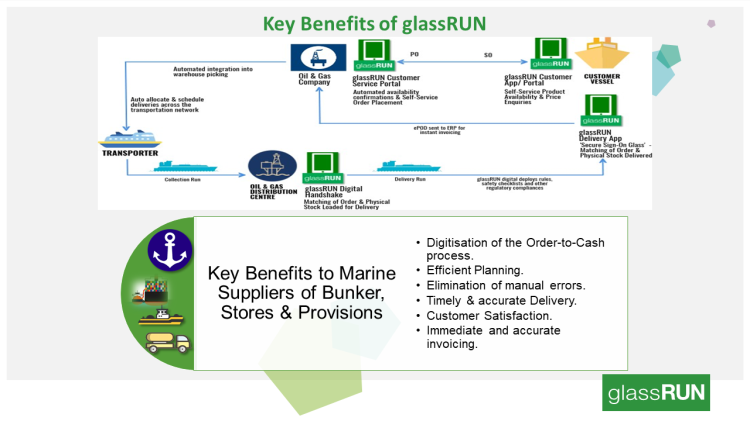 Solution Flow
Here is a simplified Solution Flow of glassRUN. The Marine Customer, using the glassRUN Customer Portal or App, places an enquiry with the Marine Supplier. The Marine Supplier approves the enquiry, on the glassRUN Order Manager Portal. The Sales Order is then scheduled for Pickup & Delivery by the Transport Operator, using the glassRUN Transporter Portal. The Driver/Barge Operator then receives the Order on the glassRUN App, and carries out the Pickup & Delivery of the Order. An accurate Electronic Proof of Delivery (ePOD) is instantly generated and sent to the ERP system for invoicing. All stakeholders have a complete 360 degree real-time view & control of the entire Order to Delivery process on the glassRUN Digital Control Tower.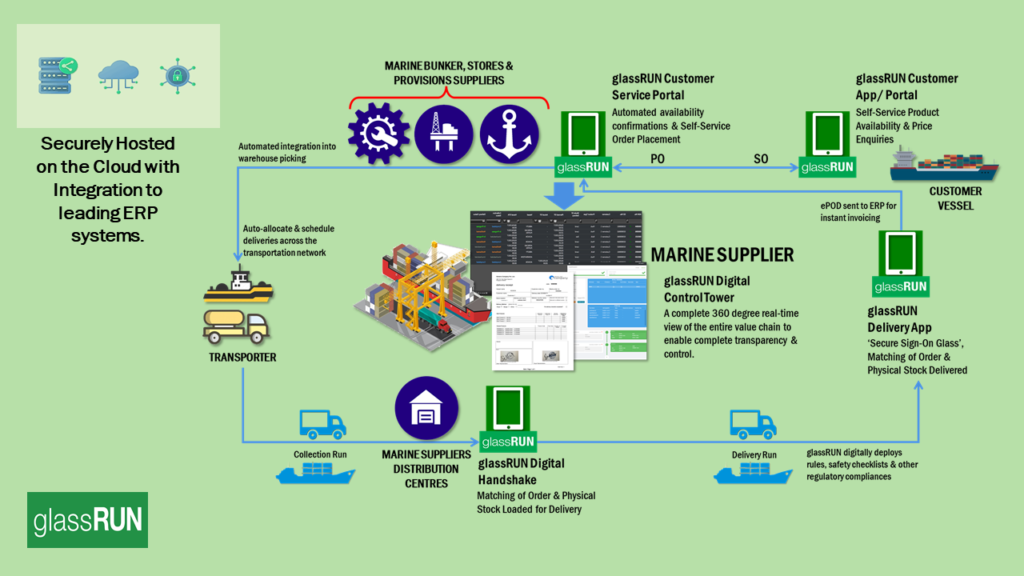 Order Automation
Simple & Easy ordering through an intuitive customer mobile app. Intelligent & efficient order processing through automation.
Order Scheduling
Seamless order scheduling with load optimizing & fleet maximizing features.
Order Fulfillment
Simple & Easy delivery mobile app for your delivery personnel with ePOD and real-time notification features.
Digital Control Tower
A complete 360 degree real-time view of the entire value chain to enable complete transparency & control.
The typical customer for glassRUN is a Marine Supplier for Bunkers, Lubricants, Stores & Provisions.
User Roles  
Marine Supplier – Order Managers & Customer Service Team
Marine Customers
Transport Operators
Drivers / Barge & Supply Boat OperatorsSome of glassRUN features for the above roles:
Order Management & Automation
Complete Order Lifecycle Management.
Forecasting & Suggestive Replenishments
Management by exception through Traffic Lights
Credit, Inventory, and request date validations
Real-Time Track & Trace
Promotions & Discount automation
Event based alerts & notifications
Configurable business rule
engine for policy-based automation.
Order Scheduling & Fulfillment
Rules based auto/semi auto scheduling
Driver App with notifications, digital documents, and sign on glass.
Auto Load Validations
Configurable digital checklists.
Route planning, multi-pick, multi-drop & multi leg deliveries.
Gate checks, load checks, safety checks and resident time capture.
Returns Management
Real-time tracking and over-the-air redirects.
Customer experience
Omni channel digital interface on web & mobile.
Rules based automated, suggestive, and easy ordering.
Real-time tracking, feedback loop and digital surveys.
How do I Join? 
glassRUN is offered as Software As A Service (SaaS) with an annual subscription fee model for the core platform and associated number of platform users.
glassRUN can be hosted on the Cloud or on-Premises.
A one-time implementation fee will be charged to configure and setup glassRUN.
glassRUN connects with external systems to integrate and synchronize data that changes on real time basis. Some examples of the data sets that glassRUN consumes are Vessel Information, Ports, Berths, Anchorage Points, Estimated Time of Arrival and Departure of Vessels, Vessel Route, Port Rules and Regulations, Official Process and Documentation at Ports etc. If you are a data provider and interested to integrate your system information with glassRUN through means of Open APIs, please get in touch with us at [email protected]. Our team will connect with after we receive your email for discussing the integration opportunity.
glassRUN collects critical information during the process of compliance and delivery that takes places at the ports using our platform. If you are a developer and if you wish to build secured API connection to integrate data from glassRUN in your applications, please send us an email on [email protected]. Our team will engage with you after we receive your email to further discuss and validate on the possibilities of building a data flow pipeline.