Plan Port calls with the power of AI
Upgrade port operations with real-time collaboration and full situational awareness using AI-powered Berth Planner.
| | |
| --- | --- |
| Category | Land | Marine |
| Developer | Awake.ai |
Awake.AI's Berth Planner will upgrade your ports day-to-day operations. It is a real-time collaboration tool that gives you full situational awareness at your port operations. It is easy to use and provides a clear overview of your port operations. You can also monitor and modify all port calls with a simple drag and drop tool.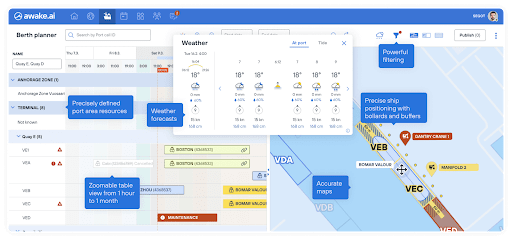 Berth Planner provides an unrivaled view of the near future that will help you plan every action in your port more efficiently. Berth Planner is an AI-based, easy-to-use tool for port operators. You can make better plans with a complete sea and port situational awareness.
The machine learning capability will give you predictions and warn you if a ship is going to be late or early. You can also communicate and collaborate on a unified messaging platform. Berth Planner helps you run your port safer, faster and smarter. No more close calls or wasted time. Berth Planner will provide you with an outstanding situational awareness over your port operations.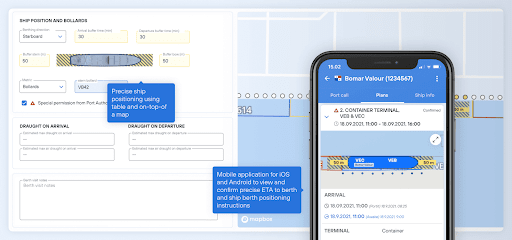 With this AI-powered tool you can plan weeks ahead and make decisions based on reliable predictions and robust data. Berth Planner is a part of the revolutionary AI-powered Awake platform. The platform provides for better collaboration and planning between all maritime operators. It combines raw data from all logistics operations and turns it into smart data for better decision-making.
See more use case examples below: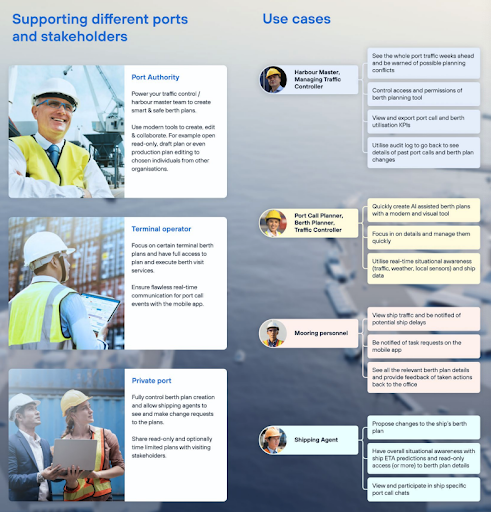 Intuitive solution
A visual and attractive planner for your long term draft and short term detailed plans. Drag-and-drop overall planning accompanied with detailed map planning views.
Stakeholder collaboration
Bring stakeholders together into a single real-time plan and operational status. Manage takeholder permissions and control viewing, creating, editing and sharing of plans.
AI-powered predictions
Adjust plans based on AI-powered ETA predictions and warnings if plans are disrupted. Be notified and react quickly. Less hassle and resource waste.
Awake.ai's Berth Planner brings direct value to a number of port stakeholders.
For harbormasters and traffic controllers:
Be aware of arriving traffic as soon as possible for weeks ahead and get warnings of possible conflicts.
Control visibility, access and permissions of berth planning.
Quickly view progress of planning and approve final plans.
Utilize audit log to inspect all the system and user initiated additions and changes to the plans. Export raw data for further analysis.
For port call planners  and traffic controllers:
Quickly create AI-assisted berth plans with a modern and visual tool.
First do quick draft planning potentially for months and then as port calls get nearer do the final plan.
Get down to all the required details of the port call arrival & berth stay phases and their details.
Situational awareness keeps you aware of ship traffic, ships ML-predicted PBP and berth ETAs, current and forecasted weather.
Hiqh quality ship particulars from most respected UK sources.
For shipping agents:
Benefit from situational awareness and predictions to have best possible information of ships arrival.
Communicate in chat style for port call questions and change requests.
View planned and by whom port calls in detail (read only).
Subscribe to chosen ship notifications and be kept informed in real time of ships events.
For Mooring personnel:
See all the mooring details on a mobile device.
Receive tasks and mark them done. Trigger manual events like "all fast".
Get notified of approaching ships.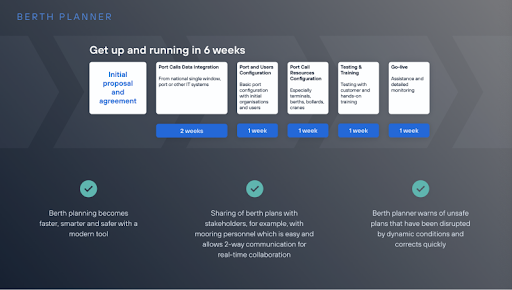 We are continuously improving the predictions by integrating additional data sources relevant for vessel traffic, for example global public port call planning data, vessel data, or data on port areas and facilities. If you would like to collaborate on this, contact awake.ai.
We provide high-availability REST APIs with continuously updated technical documentation and status monitoring available online.
More From Awake.ai
AI-powered port call predictions
Enhance operational efficiency and savings with precise port call predictions.