Declaration of inspection
Ensure safe operations with a shared responsibility in Ship/Shore Safety Checklists before cargo loading or unloading.
| | |
| --- | --- |
| Category | ESG & Compliance | Liquid Bulk | Marine |
| Developer | Smartflow |
About Smartflow
Smartflow is the ideal solution for tank storage & petrochemical companies who are looking to accelerate the execution and compliance of Operations, Maintenance, and SHEQ workflows.
Smartflow Declaration of Inspection
ISGOTT Solution
Smartflow digitizes the handshakes between vessels and terminals involved in the Declaration of Inspection – ISGOTT procedures.
It has created digital checklists for each part 1 to 9 which makes pre-arrival, arrival and repetitive checks easier for the planner & loading master at the terminal and ship's captain at the tanker. All of these procedures can be performed by them on different devices using the same common digital Smartflow environment. These digital ISGOTT checklists not only reduce time but also standardize the entire workflow, ensuring minimum administrative errors.
The Smartflow ISGOTT solution allows all the parties involved to access and change a tanker's information in real time according to its loading or discharging status. Due to covid-19 restrictions, few terminals demand contactless smooth operations and Smartflow allows remote support leveraging workers' flexibility. Smartflow's objective is to provide a paperless, user-friendly solution reducing ship/shore documentation while focusing on the ultimate goal of health, safety and environmental protection.
Why Digitize the Declaration of Inspection – ISGOTT procedures?
Zero paper waste solution
Automated alerts and notification
Streamlined workflow
Customization as per terminal rules
Improved safety of tankers & terminals, minimized risks
All Declaration of Inspection – ISGOTT checklist & questionnaire in one place, easy to access
Reduce response time & errors
ISGOTT Process Pictorial Flow Chart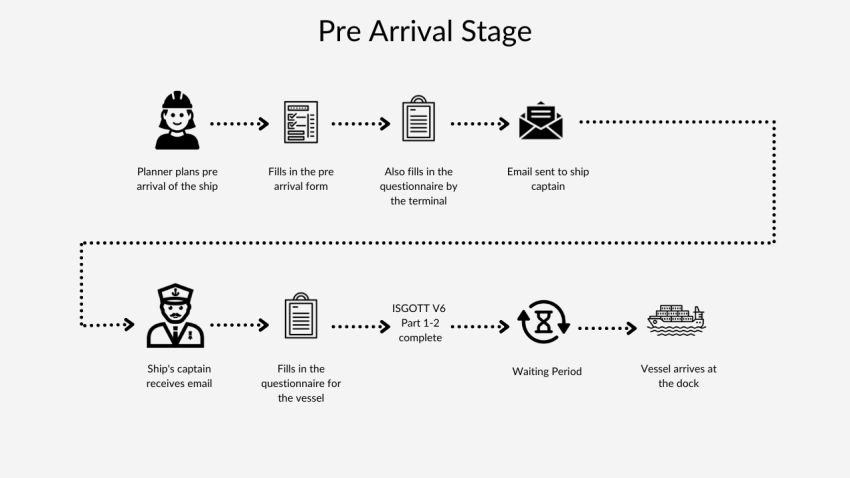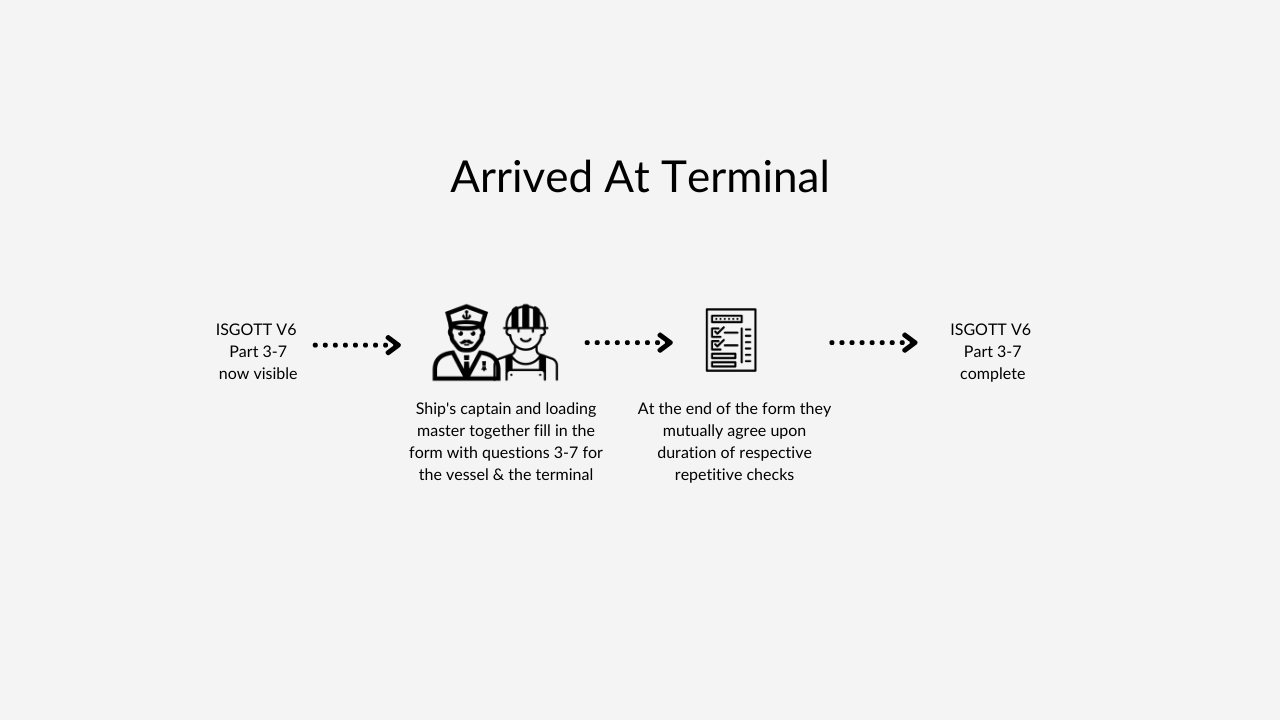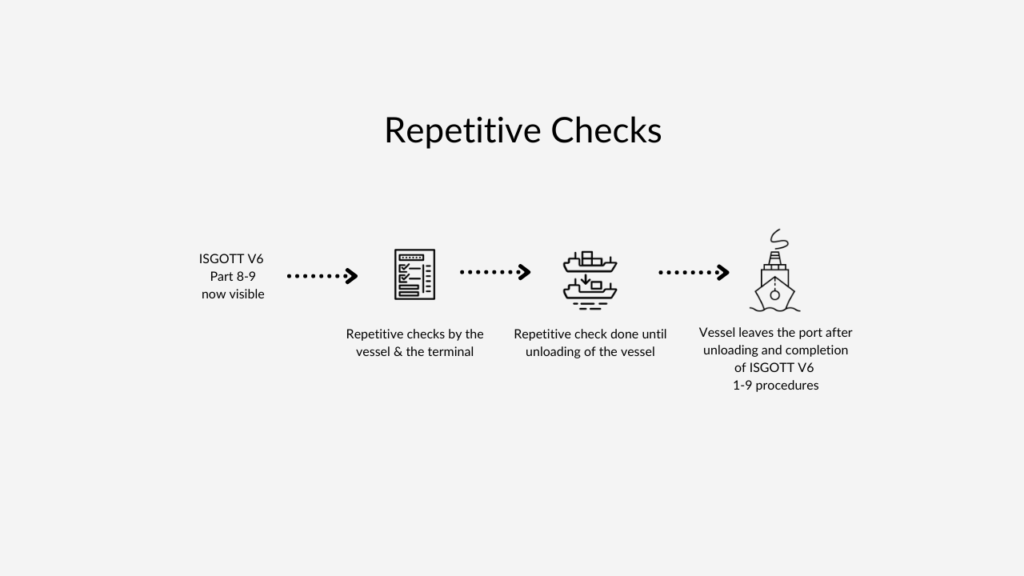 Real Time Insight
Get real time insight on vessel ETAs or delays, monitor on-time arrival, reduce discharging delays
Efficiency
Reduce vessel turnaround time by systematizing the process workflow thereby increasing efficiency
Digital Data
Avoid human errors and improve the quality of your data, get better insights into analytics and reports
Smartflow and Nxtport are on a mission to bring real-time oversight and improvement in the liquid bulk supply chain, making it future-proof. It will enhance joint safety awareness of the tanker and the terminal, thus mitigating risks and the consequences of incidents.
To start using data, contact NxtPort. We make it easy for you to access Declaration of Inspection – ISGOTT related data on this platform and start sharing it through the API.
Why join Smartflow?
Smartflow digitizes the ISGOTT version 6 solution according to industry standards. It is a cloud-based low-code/no-code solution incorporating a platform and an app, with a clear dashboard and properly integrated data. It's paperless Declaration of Inspection – ISGOTT solution helps the tank storage and petrochemical industries in both transportation and terminal related operations. It enables its users to better navigate their product movements and reduces delays, inefficiencies, and demurrage.
How to join?
Summary:
Register on the NxtPort platform
Subscribe to the ISGOTT asset
Make a digital handshake with smartflow to agree upon a price & duration of the contract
Set up your users
Each of these steps is well documented. Click here for the full documentation for the onboarding.
Supported browsers & Devices
On desktop Smartflow supports the following browsers and their respective versions:
Google Chrome 79 or later
Microsoft Edge 18 or later
On mobile app Smartflow supports android and IOS with these versions:
iOS 11 or later
Android 8 or later
To download the applications, you need to login with a user that has admin rights on the NxtPort account and is subscribed to the ISGOTT by Smartflow asset. This will add a menu on the right of this page with the download links.
If you would be using another other browser or OS, get in touch with us!
Smartflow is the owner of the User Interface and all information returned and maintains the accuracy and completeness of the data. NxtPort provides data-users support for onboarding and contracting with Smartflow through its datasharing platform. Should you encounter problems during onboarding, you can contact NxtPort support. For usage related questions, please contact Smartflow directly.
Other companies that are interested in sharing their data on the NxtPort platform, can contact us.
There is a significant opportunity for ISV's to create transparency and visibility in the liquid bulk supply chain in order to make the supply chain more efficient and further reduce costs. Smartflow uses API's from the NxtPort platform that allow to retrieve data from the participating data providers, and show that data in a specific User Interface. Developers that wish to connect to those same API's can contact NxtPort support to request technical and process documentation.
A digital solution is one thing, being able to quickly onboard stakeholders, ingest different data sources and retain ownership of your data is yet another. expensive and time-consuming to build, it is unlikely to be your are of focus. So build on the NxtPort existing secure, rigorous infrastructure that is designed specifically to answer all your needs.
Data users and data providers only need to connect once to the Nxtport platform to share or retrieve data via API's.